Kinky sex is something that we've often written about here plenty of times before. After all, it's a chance for us all to live out our sexual fantasies, explore new positions and get down and dirty in a way that's not always the norm. That said, it can be difficult to communicate just how frequently a couple should get down and dirty.
While you won't find many guys complaining about having sex — even if it's described as "boring" — when a girl is open to having kinky sex and bring out the wilder side in the bedroom, that makes things so much hotter. Since we want you to know some signs to look for that can trigger when she's thinking about getting kinkier, we have some advice below that will help you identify when those times are.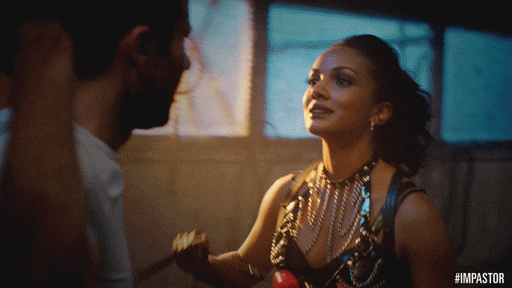 Put it all out there
We all know that communication is always important in any relationship — whether it's dating, sexual or, yep, even in the office. When it comes to the bedroom and getting kinkier sex, one of the biggest things girls say they want from guys is to be open and honest, unafraid with how she might respond to a request for kinky sex. For example, per Buzzfeed, one girl had this to say about speaking up: "Don't be afraid to tell your partner what you like or what you would like to try sexually. Perhaps they will accept, perhaps they won't, but at least it's on the table."
Know your details
To many girls, anal sex is considered kinky sex — which, considering not all girls are into it or would even be open to trying it, makes sense. For those guys looking to communicate that he would be interested in it, though, an important thing to remember is to educate himself on the details, risks and any other info to help educate his lady. Sure, she may still think, "there's no way I'm putting that up there," but, hey, come with cold hard facts and she may change her mind.
Sexting is a form of kinky sex
There are certain rules to sexting, but, for the most part, it's always something people do because they're a) horny and b) thinking about doing dirty things with a partner. That's hot, and shouldn't go unnoticed when it comes to turning on your girl — even if you've both got to wait till after the work day to rip one another's clothes off. When you're having a bad day and just need a pick-me-up, screw going for a walk and getting some fresh air, that's the time to start sexting and describing all the fun things that you want waiting for you once you get home.
Be creative
Whether it's role playing or talking dirty to each other, kinky sex is about being a little bit uncomfortable and having fun. We're not talking about humiliating or demeaning yourself or your partner, but being creative by breaking the same old routine will bring an extra spark to the bedroom, which will naturally lead to being more comfortable together and more open to trying new things.
Watch more porn
Believe it or not, according to Buzzfeed, one girl said that she's actually a big fan of her man watching more porn to get ideas for kinky sex together. Said Liam Tipler on Facebook, "Porn isn't the way to learn everything, but you can pick up a couple of ideas. You don't know what you like until you've tried it!" That's not only pretty awesome, but it's also super accurate. Much like a pro athlete learns tendencies of opponents by watching film, a person can learn plenty of tricks in the sack by watching porn.