Don't get us wrong, eating unhealthy fast food every now and then isn't the worst thing in the world. Hey, you can't blame a man for wanting to scratch his McDonald's breakfast itch and chow on a McMuffin and those perfectly cooked hash browns, right? That said, knowing what you put in your body is something to be aware of, and, if eating all that unhealthy fast food becomes routine, that's when things can become a problem.
Even if you're not one of those people who concern themselves with how much sodium is in a meal, or you find yourself ignoring the nutrition facts on the side of a snack, you should understand what some of this food is doing to your body. Splurging can be fun, but it can be dangerous, too!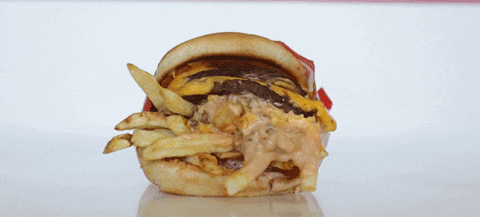 Since we care about your well-being, we went out and found some of the unhealthy fast food items on the planet, making sure you rethink some of those meals before ordering them and then housing them in under 10 minutes. Hey, it's your body — so do what you want to it — but we'd recommend treating it well.
10. Domino's Cali Chicken Bacon Ranch Hand Tossed 16-Inch
Calories: 520 calories
Fat: 26 grams/fat
Sodium: 1,150 milligrams/sodium
Carbs: 47 grams/carbs
Stop saying to yourself, "but pizza's just so damn good," and avoid ordering this monstrosity of a meal. With the amount of sodium this pie has, just one slice is worth about half a day's worth of sodium and a half-gram of heart-health-harming trans fat, which is bad stuff, fellas.
9. McDonald's 40-Piece Chicken McNuggets
Calories: 1,880 calories
Fat: 118 grams/fat
Sodium: 3,600 milligrams/sodium
Carbs: 39 grams/carbs
Love Mickey D's chicken nuggets? If so, you'll want to avoid the 40-piece option, as it's the one item on the menu with the most calories and fat of anything. For a fast-food restaurant, that's saying a lot.
8. Checkers Baconzilla
Calories: 810 calories
Fat: 52 grams/fat
Sodium: 2,000 milligrams/sodium
Carbs: 40 grams/carbs
Bacon is absolutely incredible — and every guy can scarf it down like water on a hot day. Problem is, it's really, really bad for you, and when you put the pig on a bunch of beef patties, then add cheese and other fixins, it can really, really increase your chance of heart disease.
7. Subway Chicken and Bacon Ranch Melt
Calories: 1,190 calories
Fat: 59 grams/fat
Sodium: 2,710 milligrams/sodium
Carbs: 88 grams/carbs
Chicken might sound good, but not when it's lathered up with monterey jack cheese, bacon and ranch dressing. Sorry, fellas, with nearly 1,200 calories, this Subway sub isn't worth it to your body; no matter how tasty it is.
6. Chipotle Carnitas Burrito
Calories: 1,655 calories
Fat: 89 grams/fat
Sodium: 3,050 milligrams/sodium
Carbs: 153 grams/carbs
Chipotle might tout natural ingredients and all that health conscious stuff young people want to hear, but it's all a marketing ploy, because, deep down, the food isn't all that great for you. With an outrageous 3,050 milligrams of sodium and over 1,600 calories, the carnitas burrito is the worst option on the menu to eat.
5. White Castle Onion Chips
Calories: 930 calories
Fat: 65 grams/fat
Sodium: 1,550 milligrams/sodium
Carbs: 73 grams/carbs
Anything deep-fried should be avoided, so don't be the dummy who thinks this side dish is worth the 930 calories. When you add White Castle's onion chips with a burger, you're looking at some serious health risks in just one meal!
4. Arby's Sausage Gravy Biscuit, Double
Calories: 970 calories
Fat: 56 grams/fat
Sodium: 3,540 milligrams/sodium
Carbs: 96 grams/carbs
Biscuits + gravy = heaven; well, for some people. But, for all those smart eaters out there, Arby's sausage and gravy biscuit, double isn't worth all that tastiness. With 970 calories and 56 grams of fat, this breakfast meal will give you a food hangover early in the day, making you sluggish the rest of it.
3. KFC's Chicken Pot Pie
Calories: 790 calories
Fat: 46 grams/fat
Sodium: 2,120 milligrams/sodium
Carbs: 66 grams/carbs
Chicken pot pies have a variety of vegetables inside of it, but the creamy (and fatty) filling has loads of fat and carbs. When you add in all the MSG and inflammatory hydrogenated oils of KFC's version, it's a meal worth avoiding.
2. Taco Bell's XXL Grilled Stufft Beef Burrito
Calories: 870 calories
Fat: 40 grams/fat
Sodium: 2,130 milligrams/sodium
Carbs: 96 grams/carbs
It just tastes so F'in good when drunk at three in the morning, we know. But don't be the idiot who adds an additional 870 calories and 40 grams of fat to their body after a night of boozing, because the XXL grilled stufft beef burrito isn't worth it. Worse than the calories and insanely high fat count, the burrito packs a day's worth of heart-harming sodium and saturated fat.
1. Burger King's Ultimate Breakfast Platter
Calories: 1,190 calories
Fat: 66 grams/fat
Sodium: 2,460 milligrams/sodium
Carbs: 123 grams/carbs
We recommend cooking breakfast at home or going to a local spot that's a little more health conscious, because Burger King's ultimate breakfast platter isn't really the meal to get your day started. Sure, the scrambled eggs, biscuit, sausage, hash browns and three pancakes look incredibly tasty, but they're covered in syrup, which makes this meal the most unhealthy fast food item around.