Orgasms can be like unicorns at times, where, we think they exist, but we never really know what might be real. Let's face it, girls know that guys don't always get them off, but, dammit, they're going to still moan, scream and talk dirty to make the guy think he's giving her an orgasm. However, we know that girls fake it more than we actually want to admit.
But, is there a secret recipe to giving a girl an orgasm? Maybe. That's why the good folks over at Men's Health talked to a bunch of ladies to get their tips for guys on giving her the big O. Of course, these don't work on every girl — people are different — but it's a good start to at least work on the art.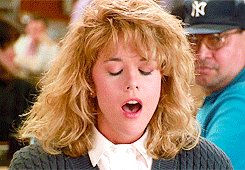 Get to know the clit
If you don't know where the clitoris is, go buy a book or Google its location, because it might be the most critical part to giving her an orgasm. Per one study of 1,000 girls, only 18 percent can achieve orgasm through just vaginal intercourse — so rub, flick, lick and do whatever you can to satisfy the clit.
Follow her lead
It's a guys job to be confident and know what to do while having sex and trying to give his girl an orgasm, but don't be afraid to ask a few questions during the hot and heavy moments, seeing what she likes the most and focusing on that. Not every girl is going to like the exact same thing, but having her steer your hands and mouth to the right places will give you a better idea of what's going to make her get off.
Kiss, kiss, kiss
It may seem weird to most guys, but, surprise, deep and emotional kissing is a must for a girl to achieve orgasm, with her feeling a connection with her partner. No, she won't be screaming your name from kissing alone, but when mixed with oral sex and stimulation of her clit, the hardcore kissing will make her get off.
Don't ignore her butt
We're not talking full-on "butt stuff," so to speak — unless that's something the two of you have talked about — but, instead, lightly rubbing her butthole and/or squeezing her cheeks while hooking up. The buttocks have a bunch of nerves, so the extra little squeezing, slapping and rubbing will drive her wild.
Talk dirty
Yep, now's the time to bust out some dirty talk and tell her the things you're going to do, or ask her about how things feel. Dirty talk is said to make a girl feel more desired, with things as simple as complimenting her kisses as a major turn-on. If you want to be a little more hardcore, go for it — just make sure she's reciprocating the thoughts or it might not be as successful.
To see the full results and more tips, head on over to Men's Health, where you'll get a quick education on all things orgasm. Something tells us your girl will appreciate the hard work.