Kinky sex is always some of the best kinda sex, with whips, dirty talk an other strange sex toys that come into the bedroom. But, just because someone's into kinky sex doesn't mean everyone has the same levels of it. For instance, some people think spanking is kinky, while others love being tied up and being dominated.
Whatever your preference is when it comes to kinky sex, we have zero judgement whatsoever. If it's consensual between all parties involved and it's pleasureful, then, hey, have at it! Still, there are some interesting things that people are into when it comes to kinky sex, and, thanks to the Internet, we know a few of them even better.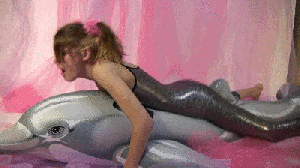 That's right, to help us understand what kind of kinky sex people prefer, we turned to Reddit, which always provides some A+ replies to sexually inspired questions. Since we like that type of stuff, here are some of the kinky sex habits people admitted to — how do yours stack up?
"Clothed sex. It just feels like there's an extra level of corruption in the act when she's got clothes on. Instead of everything being seen, only your most embarrasing places are being shown."

"Sweaty chicks. For example few days back I was at the gym and bumped into an old class mate, a woman, from waaay back. I didn't even think of anything sexual while conversing with her until I noticed how sweaty, sort of blushing and out of breath she was from her workout. Sweat droplets running down her neck, hair sort of messy etc. Dear god it got my heart pounding and even though she was not particularly attractive otherwise but what I described made her almost irresistable in that moment."

"Nearly violent sex, (bitey, grabby, pinny, no-holding-backy sex) paired with sweet words of encouragement and gentle forehead kisses. Example: call me adorable while you choke me. Really awesome combination."

"Tickling. Nothing crazy like tickle torture, but like when a guy does that affectionate, wriggling his fingers under my chin thing, I immediately go weak in the knees. Or if he has a beard/stubble and kisses my neck, game over. Tickle fights are always fun too, because even if I lose, I still win."

"Being dominated by my boyfriend. Having him use my body for whatever he pleases and being his just turns me on so much. I love being held down and choked while he pounds away. As soon as he slaps me in the face and grabs me by my hair I'm like dripping wet. It's kind of funny because he'll go from smacking me and calling me a whore to gently kissing my neck, telling me how much he love me while we are in the middle of fucking."

"Public sex. The thrill of being on the verge of being caught gives me a boner just by thinking about it. I found out about it by having sex at work, on stairs and in bathroom, before work hours started or during lunch. And next on the list is tall girls. I love to be able to suck tities, just standing straight, or eating her out without sitting on my knees. The taller she is, the better i like it."

"Being cummed on. Not in the face but tapping the head on my chin is hot, my favorite spot is on my lower back to have someone finish on. Spanking, biting, sucking, light choking, hair pulling especially when I'm giving head is a huge rush for me. A weird kink I have is being thrown, throw me on the bed like a viking and fuck me hard. It's nice."

"Tying a lady up with rope and doing what I want with her, from denying/edging her to satisfying myself. I generally use clothesline rope. I should probably say consent and understanding what we're doing beforehand/safety word is totally necessary."

"Once this girl wanted me to suck her nose. I thought she was joking at first, but she was insistent. I wasn't about to ruin the mood, so I start kissing her passionately and gave it a little playful tap w my tongue onto her nose, and a lil kiss, then a lil lick. With each one, she breathed harder, more sensually, her hot breath felt on my neck. I started sucking on her nose, licking her nose with my tongue and feeling her breath onto my tongue. The sound of her moaning, tingle on my tongue from her breath, the sensation of her arms embracing me as she lightly scratched my back… It lead to the hottest sex I've ever had, as we went on to discover our pleasure points and fetishes throughout the night. When the night was over, we both felt so zen. As tho we were reborn through a night of intense passion. Ever since then, I had this weird fetish about nose sucking."
To see the full thread, head on over to Reddit, which will help entertain you and, just maybe, freak you out a little bit as well. Hey, all is fair when it comes to kinky sex, right?