Sex challenges don't come around too frequently, but there's a new one that a couple posted onto Reddit that is suddenly becoming a viral trend. Is it worth trying out for yourself? Well, that's up to you and your partner, but, at the very least, we explain how the 30-day sex challenge works, as well as why it might be fun to conquer.
So, how did this whole 30-day sex challenge begin? Well, to be blunt, it was to help improve a couple's relationship, hoping to increase the amount of sex they were having each month — since it's a necessary habit to have for your health, seriously! — and to try a few new things. Since the Reddit post, though, the information has gone viral, leading to loads of comments, feedback and other reactions.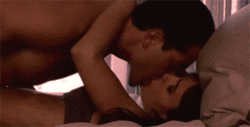 OK, now that you've gotten a little backstory, let's take a quick peek at how it actually works and what you and your partner need to do. Basically, every single day, your partner and you take part in a specific sexy dare, refusing to miss it because of some excuse. While each person does get a couple of veto days if something does come up — which results in "normal" sex — the sex challenge can't extend beyond 40 days. The hope is to push each other out of a comfort zone, discover new things to please one another and build a better sexual relationship. Here are their rules.
Rules: 1. Each partner can modify/replace the activity for two of the days of their choosing before the challenge starts. No edits after the challenge begins.

Each partner gets two VETO days in which they can choose to just have sex and bypass a specific day's activity.
Partners can also add anything to the list if both partners agree.
Periods, holidays, business travel will be treated as "pause" if necessary.
If a day is missed, an extra day will be added to the challenge increasing the challenge length from 30, 31, 32, and so on. The challenge will not exceed 40 days.
The goal is to push your comfort zone and try something new. If a partner is uncomfortable with a challenge and they no longer have an edit or VETO, they can borrow a partners VETO. In this case, the partner who gives up a VETO gets to pick the new activity.
Condoms and birth control should be used when desired or required.
Sounds like fun, right? Just look at some of the things this bold couple tried during their 30-day sex challenge — which sure looks like it would be fulfilling (and successful in its objective).
Day 1—Have sex at a time other than before bed. Lunch time romp, morning sex, or after work workout.

Day 2— Browse a list, book of sex positions, or watch a Kama Sutra video together. Pick a few new positions to try. Be sure to tell your partner what you think looks enjoyable and why. Stick to the easy stuff. No point getting an injury on day 2.

Day 3—Have sex twice in a day.

Day 4—Read erotica together before sex. Find good erotica online and each pick a short story.

Day 5—Shower sex. Be extra soapy but use caution. Water based lube (not shower water or soap) is advised.

Day 6— Full body massage before initiating sex.

Day 7— Quickie. 10 minutes or less. Try someplace/time fun. Example: while preparing breakfast standing in the kitchen. Bonus Play: Two or more in a day.

Day 8—Road trip. Park, make out and have car sex. Option: go home for sex afterwards. Don't break the law. Maybe just do it in the car in the garage.

Day 9—Sex while seated on chair or sofa, facing each other and facing away.

Day 10—Sensual oil massage before sex. Towels or old sheets recommended

Day 11— Oral Sex only. Tell your partner what works and keep at it until you both orgasm. No 69.

Day 12—Let her dominate. Tell your partner what you want. Bonus Play: Ropes or handcuffs

Day 13—She brings him to orgasm, no intercourse, hands, mouth, and body only. Bonus Play: Use breast or feet to bring partner to orgasm.

Day 14—Find a new place in the house for sex. Kitchen, bath, living room, chair, sofa, floor, etc.

Day 15—Each partner brings self to an orgasm seated in front of partner on bed. Same time is ideal. Share what you are feeling. Use what you like. Observe and learn.

Day 16—Advanced level Kama Sutra. Find two or three challenging positions to try. Again, avoid injury.

Day 17— Add toys into your love making. Vibrators, dildos, cock rings, beads and ticklers. This session is all about finding what works. Bonus Play: We-Vibe or other shared sex toys.

Day 18— Watch porn together. Movie or 30 minutes minimum. Bonus Play: Masturbate (self or partner) or have sex while watching. Start with something safe if you have never watched before. Find a good "Couples Porn" video or visit sites like X-Art.

Day 19—Sex without intercourse. Hands, body, toys, mouths. Both must orgasm.

Day 20–Share fantasies today by email. (warning, do not use work email) Pick one to play out. Bonus Play: costumes.

Day 21—Visit a sex store together. You both must make a purchase. Sex toys, sex games, videos, or books.

Day 22— He brings her to orgasm, no intercourse. Hands, mouth, toys only

Day 23—Take a breather… enjoy a night of just sex

Day 24—Sex game… dice, spinner, or app. Find something fun to play.

Day 25— Slow it down sex. Fuck at ¼ speed. This is a marathon, slow and steady. 45 Minutes+ or until you both have had one or more orgasms.

Day 26—Let him dominate. He's in charge, do what he says. Bonus Play: Ropes or handcuffs

Day 27—Dinner out with under the table touching. Nothing illegal! Then go home or hotel for sex.

Day 28—Multiple Orgasm Day. Have a few minutes cool down with caressing after an orgasm then try to start it back up again, or just keep going!! Today, one is never enough!

Day 29—Flip a coin, Pick a dominant. Tell your partner "Do what you want to me", but be sure to have a safe word. Try and push the limits of yours and your partner's comfort level.

Day 30—Stay up all night—or as long as you can, having sex. Have as much sex as possible today. Explore 27 days of favorites today and try to have either 5 orgasms or sex 5 times.
Think you and your partner can handle some of those things? Multiple orgasm day sounds kind of fun, doesn't it? Even if you're just looking for a good way to spice up up the bedroom and can't commit to such craziness as a 30-day sex challenge, there are a few amazing suggestions on that list to try for yourself.
Take a look at the entire thread over at Reddit for more info.