What is the average penis size? This is a question that both guys and girls often ask themselves, with each comparing themselves or partners and significant others' sizes against one another. And, thanks to a new study, all guys out there can breathe easy, because the answer may actually make you feel more like a stud than you did before reading this article.
It's not rocket science: when a penis is erect, it's bigger than when it's flaccid. That said, what is perceived as "normal" or average isn't necessarily that obnoxious. In a day and age where we all compare ourselves to one another — especially in the looks department — one thing that no man should do is compare penis size, as it's one of those things that's just out of your genetic control.
Thankfully, King's College London wanted to get to the bottom of the average penis size question, going through 17 different studies that examined the penis size of more than a whopping 15,000 men. Their findings were published in the British Journal of Urology International, showing that the average penis size — measure from the base to the opening on the tip — was 3.6 inches when flaccid. When erect, the average penis size increased to 5.2 inches. This is something that most men can probably exhale about, because, chances are, most fall into that "average" category.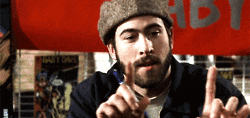 As for girth — which is often said to be the thing girls care about most when it comes to the penis — a flaccid penis averaged about 3.7 inches in circumference, which was measured around either the base or mid-shaft. When erect, the average penis size girth is 4.6 inches in circumference.
To help you sleep even better at night, guys, according to the above report, any penis that's between about 4 inches and 6.3 inches when erect covers about 90 percent of guys. So, unless you're one of those outliers who was blessed with a foot-long dong, fear not, because most girls have seen a similar-sized penis.
Remember, bigger isn't always better — especially when it comes to penis size — with many women saying that it's a non-factor when it comes to sex. As with anything, it's how you use it that makes the difference.